By Shaili Bhatt, Senior Analyst
Projective questions from in-person interviewing flow smoothly into online qualitative activities! Nancy Hardwick gave a wonderful presentation on projectives at the 2011 QRCA Conference in Las Vegas, and here we explore how these activities work well online.
Most, if not all, of my favorite projective activities in new qualitative research are derived from traditional qualitative research methods.

Online discussions or communities feature an extended interviewing phase (multiple days, weeks or months beyond traditional 2-hour focus groups), which essentially provides researchers with a welcome abundance of time to harvest and probe an always-impressive incoming flow of information. How can researchers effectively utilize this time to engage online participants and immerse them in the topic at hand?

For the time being, quick "top-of-mind" free association exercises are just as important as creative projective questions, requiring online participants to reflect for a few moments (or days!) to capture a particular feeling or experience in a thoughtful post or activity page.
Written exercises like storytelling and other creative activities like collages, when used at opportune times, can be the key ingredients to insightful and interesting new qualitative research. No stimuli are required, and natural dialogue helps to tie it all together.Nancy Hardwick of Hardwick Research presented, "Projectives in Practice," a detailed compilation of projective techniques at the 2011 QRCA Annual Conference, which was held at the luxurious Venetian & Palazzo Resort in Las Vegas.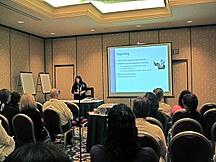 Hardwick encouraged the audience to interact and build upon the listed activities during her in-depth, power-packed presentation. While the focus of the presentation highlighted "what works" with in-person interviewing, the ideas and energy in the room quickly catapulted this to a presentation that refreshed my perspective and sparked the most NewQual inspiration in my notebook.

(As you may know, projective techniques are subjective questions that researchers use to elicit the underlying emotions or subconscious drivers that influence choice, as an alternative or complement to asking direct questions. Many of these techniques originally stem from projective personality tests in Psychology, which were designed for people to respond to fairly nebulous, ever-inconclusive stimuli, presumably uncovering hidden emotions and internal conflicts in the process.)
Throughout the presentation, Hardwick included a steady stream of projective techniques, resulting in a compilation of audience favorites in several important categories:
Written Exercises

Photo/Drawing Exercises

Sorting Exercises
The variety of projectives serve as a reminder for how many of these time-tested exercises can be incorporated into online research.

Written exercises transition smoothly into the online world.
A few of my favorite activities are as follows (sans embellishments):
Famous Owners—Pick a favorite/popular celebrity, and describe 1-2 thoughts about who they are. Then, ask what this celebrity's version of (insert client's product/service) would be like? What would it look like? How it would perform, and why? Note: This is a great technique for exploring an existing client's products or services as well as innovation and co-creation.

Storytelling: Describe a specific experience from the last time that you…(insert scenario). What Did You Think? Say? Feel?

Tribute/Eulogy—Pretend that (insert product/service) no longer exists. What did it accomplish? What will you miss most about it? Describe all that you feel and want to say about the product, even if you are viewing it in a new light. Note: variations on the theme, such as a "Lifetime Achievement Award" can be more attractive for certain products/services, particularly category leaders.

Picture Your World—Pick a picture/color that represents how you feel about (insert product/service). How does this picture/color represent how they feel, and why?
There's no need to reinvent the wheel.

Very often, writing a discussion guide for online research is about applying techniques that are already available and crafting projective activities to capture the level of insights you can hypothesize…and then some!Hardwick advises to begin with a written exercise "early on" in the discussion, which also works well with new qualitative –even if it's typed; this early activity serves to challenge the participants to think independently and also allows them to "own" their ideas and suggestions. A well-executed written activity that provokes thoughtful posts is also a great way to encourage insightful group discussions.Online discussion guides written like quantitative-type surveys, with numerous objective questions, can certainly be cringe-worthy. Please do not be afraid to ask creative in-depth questions: the online medium suits that well!

Leave room for the unexpected when writing questions and avoid mechanical dialogue. Don't be overly repetitious.

When using projectives, encourage honesty and spontaneity while asking for details. I like to throw in a few natural quips at the end of questions, for example, "It could be anything!" (As in, "What's your favorite part about ______? It could be anything!") It is interesting to note how such a brief invitation can lead to a wider variety of posts. Treat it like a conversation, because it is!